GARDEN MACHINERY | iLikeSheds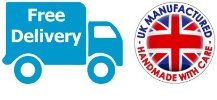 Shop by Size / Type / Brand
Incredible range of Garden Machinery at cheap prices - from iLikeSheds.com
Why waste a sunny afternoon cutting hedges when you could be relaxing in a hammock with a long, cool drink. Our selection of hedge trimmers make the job quick and simple so you can spend more time taking it easy.
When looking to buy a hedge trimmer we recommend considering the following:
Blade length
The longer the blade, the quicker you will get your hedge cut. Here are the blade lengths you'll need for specific hedge sizes:
Small hedges - 46cm or less
Medium hedges - 47cm to 56cm
Large hedges - 57cm or longer
Blade width
The blade width indicates the size of the gap between teeth and gives you an idea of the maximum diameter of cut a hedge cutter can make. So a 20mm blade width, for example, can cut through stems and branches 20mm thick.
Hedge trimmers can be powered in one of three ways:
Rechargeable battery

Petrol

Mains electricity
Rechargeable battery power
Advantages
Cordless hedge trimmers are convenient - you can use them anywhere.
Having no electrical lead/cable to cut through makes them safer than electric hedge trimmers.
They are generally quieter.
Disadvantages
You have to plan ahead with a cordless hedge trimmer and charge the batteries before use.
Batteries must be recharged for five to seven hours to give around 30 minutes' running time.
Petrol
Our most popular Petrol Trimmer is the Ryobi 26cc Petrol Hedge Trimmer with Quik-Fire with free next day delivery.
Advantages
Petrol hedge trimmers are convenient - you can use them anywhere.
Having no lead to cut through makes them safer than electric hedge trimmers.
Disadvantages
Petrol hedge trimmers tend to be heavier and bulkier so they're more difficult to handle.
They can be a challenge to use when you're working from the top of a ladder.
You need to have a supply of petrol to keep the machine going.
Petrol hedge trimmers are louder.
Mains electricity
Our most popular Electric Trimmer is the Bosch BOAHS50-16- AHS Range Electric 450 Watt 50cm Hedge Cutter with free next day delivery.
Advantages
Electric hedge trimmers are convenient.
They're generally lighter than petrol models.
Disadvantages
Electric hedge trimmers need a power source.
That's not ideal if a hedge is far away from your house.
There's always the danger of cutting the cord by mistake. You'll need to use an RCD power adapter.
Hedge clippings collector
Some models come with an optional attachment that collects clippings into a tray fixed to one side of the blade. This is very helpful when you're cutting across the top because it stops clippings falling into the hedge where they'll die and look unsightly.
Double position trimmers
With a double position trimmer, you won't need to climb a ladder for taller hedges. The handle can be adjusted to form a right angle to the blades, so you can achieve a level cut along the top of your hedge from a standing position. Easy!
Automatic blade brake
Make sure your hedge trimmer has a blade brake so the blades will stop almost immediately when you release the trigger.
Hand guard
For extra safety, a hand guard protects against flying debris and against the blades when they're in action.
Protect eyes from flying debris with safety goggles.
Protect feet with heavy-duty footwear (steel-capped boots are perfect).
Keep children and animals away from the area.
If you're using an electric hedge trimmer, check the socket outlet has RCD protection and that the RCD is working.
Position the cord away from the cutting direction.
Don't use an electric hedge trimmer in wet weather.
Keep both hands on the trimmer handles.
Make sure your hedge trimmer is switched off and the blades have stopped before you remove jammed foliage.
Read and make sure you understand the manufacturer's instructions before using your hedge trimmer.
Chainsaws
Our powered chainsaws are ideal for felling trees, heavy-duty lopping and pruning of branches, or for cutting logs in your garden. For safety, it is recommended that gloves, footwear, goggles and ear defenders are worn when using a chainsaw. A hard-hat should also be used, especially when cutting branches, and ideally never use a chainsaw above chest height. Before using your chainsaw always read and follow the safety instructions provided.
Petrol chainsaws
Petrol Chainsaws are powerful and versatile. They can go anywhere outdoors and are ideal for regular heavy-duty use away from a power source. They all have 2-stroke engines, which require 2-stroke fuel mix. Our most popular selling petrol chainsaw is the Gardencare GC4016 40cc 40cm Petrol Chainsaw with free next day delivery.
Electric chainsaws
Electric chainsaws are better for homes and gardens where a power source is readily available, though usage of electric chainsaws with long extension leads should be avoided. The higher the wattage, the more capable the chainsaw will be of maintaining a good chain cutting speed. Our most popular selling electric chainsaw is the Ryobi RYRCS1835 1800W Electric Chainsaw 35cm Chain with free next day delivery.
Key Chainsaw Features:
Chain bar length
The longer the length of the chain bar, the larger the diameter of wood that can be safely cut. As a general rule, logs to be sawn should be shorter than the exposed cutting chain bar length, unless the operator is specially trained. If you only intend to use your chainsaw for lopping or pruning, then a shorter chain bar length is most suitable.
Chain cutting speed
Measured in metres per second (m/s), the faster the chain speed, the quicker the chainsaw will cut through timber. Whatever the speed, the saw should never be forced through as this may damage the chain. Always ensure the chain has stopped prior to putting the tool down.
Chain lubrication
Chain lubrication is an essential requirement, acting as a coolant and lubricant. Some chainsaws have automatic lubrication and oil level indicators, whilst others require manual oiling. For the effective running of your chainsaw, it is vital to use oil with the correct viscosity.