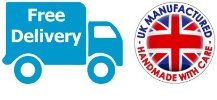 Shop by Size / Type / Brand
We have a large selection of chicken coops to house your chickens in. A chicken coop (hen house) is a building where female chickens are kept and inside the chicken coop there is normally a next box for egg-laying and perches on which the birds can sleep. A chicken coop can also have an outdoor run and the coop with have some means of ventilation.
All out chicken coops are constructed from Solid Fir Wood and fully treated using pet friendly wood preserve. They are totally secure and fox proof with a sliding entrance and exit door at the front of the Hen house with ventilation grills in the Apex. Our chicken coops are raised above the ground to prevent rotting and come with a large nesting box and normally a removable lid for ease of access. Typically the wood panels are constructed from 12mm Tongue & Groove giving a sturdy construction using only quality jointed timber.
VENTILATION IS ESSENTIAL WHEN BUYING A CHICKEN COOP
Adequate ventilation is essential for the health of your chicken's. Just as we do not like being too hot and stuffy through the summer months chickens are just the same. They need lots of fresh air and oxygen as the ammonia fumes can build up to toxic levels. A chicken coop with plenty of air movement and sufficient ventilation will help remove the ammonia build up and dampness that may grow inside its walls.
All Chicken Coops have ventilation holes, grills, windows or vents. You should position your chicken coop so the vents are facing south or east. This will enable proper air flow whilst protecting your chickens from cold drafts.
Through the summer months you could plant tall shrubs and plants around the exterior of the chicken coop to help with shading and cooling through the hot days. Ensure that the plants do not cover the ventilation areas.
Through the winter months ventilation is still important but you will need to ensure that your chickens are draft free, have access to quality food and fresh water. If at all possible do not place your chicken coop on concrete, if it has to be placed on concrete you will need to lay down a thick bed of straw or shavings to keep the chickens from frostbite.
We have a number of chicken coops ranging from the popular selling York Chicken Coop which houses 6-8 chickens to our larger chicken coops such as the Cambridge Chicken Coop which house 15-20 standard chickens. All our coops come with free delivery and normally express 24 hour delivery.