WOODEN SHEDS | iLikeSheds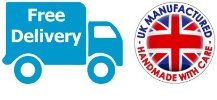 Shop by Size / Type / Brand
Exceptional Wooden Sheds To Buy Online.
We hope you enjoy our extensive range of Wooden Sheds at the cheapest possible prices.

Here's just some of the feedback we have received:

"Fast delivery on the wooden sheds we ordered, great customer service. Top notch"

"This was our first time ordering a wooden shed online, so we were a little nervous. Once delivered though, we were ecstatic with the service and the price. Thanks"

"We ordered two wooden sheds for our back garden and could not be happier with the speed of delivery and of course the cheap prices. iLikeSheds were brill"

"I've always been a little dubious about online ordering as I've had a nightmare in the past, but, iLikeSheds delivered on every level. Our wooden sheds arrived quickly and we were satisfied the price we paid was fair. Thanks"

"With so many sites to choose from it was a bit of a minefield, but we have to say that iLikeSheds was a great experience. Our wooden sheds arrived within the time stated and the price was unbelievable. Would definitely recommend them for wooden sheds!"

"Obviously, a wooden shed isn't something you buy often, so we wanted to be sure we had made the right decision. iLikeSheds delivered the shed very quickly, we were impressed. The follow up customer service was also good. Many thanks. We would definitely recommend you for wooden sheds"
So For Wooden Sheds, Buy From the UK's Favourite
ilikesheds offers a wide range of wooden sheds for your garden. We typically have three ranges of sheds in a number of different sizes. The Super Value Range which are constructed from quality 8mm Overlap Wall Cladding and have a 10mm Solid OSB Floor and Roof. The Middle range which are constructed from 12mm Tongue and Groove Wall Cladding and have a 10mm Solid OSB Floor and Roof. The Premier Range which are constructed from 12mm Tongue & Groove Wall Cladding and have 12mm Tongue and Groove Floor and Roofs.
All our sheds come with roof mineral felt, a full set of building instructions, a fixing kit and all the screws you need to build your shed. Please check each page for instructions for each shed.
Overlap garden sheds are the most popular and affordable type of shed within our range of sheds. The shed cladding is overlapping. They offer a basic design that are affordable and are perfect for storing items from your garden. Overlap garden sheds are ideal for people looking to store generic garden tools and have a limited budget. Overlap is just as popular as our tongue and groove cladding sheds and is the most affordable shed construction available in the market place.
Tongue and Groove cladding uses an interlocking Tongue & Groove framing which gives a sealed wall which is designed to stop water penetrating the wooden panels. Tongue & Groove is usually constructed from 12mm thick wood which offers a sturdy construction. A Tongue & Groove floor will withstand the pressure of large items and is recommended for sheds accommodating larger garden items. Tongue and groove cladding is arguably the best value for money as although it is more expensive than overlap it has a sturdier build. Tongue and groove is one of the most popular shed cladding choices.
We offer a wide range of sizes of wooden sheds, from the most popular sizes 8ft x 6ft, 6ft x 4ft, 10ft x 6ft, 10ft x 8ft and 12ft x 6ft. Our bestselling shed the 8ft x 6ft Super Overlap Windowless Apex Shed is constructed from quality 8mm overlap cladding with 10mm solid OSB floor and roof. This shed comes with a large door and mineral felt and is delivered as flat-packed panels. The shed will typically take 2-3 hours to build. Our next best seller the 8ft x 6ft Overlap Super Saver with Double Doors and Windows which comes with 4 styrene glazed windows which can be placed either side of the shed.
We also have a large selection of Windowless Sheds, Bike Sheds and Pent Sheds all of which come with Free Delivery* and we offer an Express Delivery Service – 48HR / SAT / PICK-A-DAY to a number of postcodes (please check each product page for more details).
All our sheds are provided factory dipped which will last you 4-5 weeks before you need to treat your shed. We do though recommend you treat your shed as soon as you have built it. We sell treatment and this can be selected from the accessories on the shed product page. Once you have chosen your shed we offer a number of additional options such as Treatment, Shelving, Solar Lights and Padlocks to enhance your shed.
On a number of sheds we offer an installation service. Please check each page for further information. Delivery time for a shed with the installation service will typically be longer than the standard delivery times quoted dependent upon the availability of an installation team.