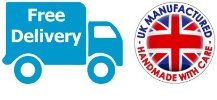 Poppy Tower Playhouse 5ft x 7ft
Move mouse over Image to zoom
Delivery Check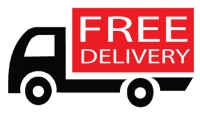 Please enter your post code to check our standard delivery dates
Product Accessories
Optional Special Extra's
Installation (Not available on express delivery options)
Upgrade Express Delivery Options**(please check below for available postcodes)
Optional Extra's
Treatment 5L Tub £14.95 each (We Recommend 1 Tub)
Treatment - 1 x Tub 5L (+£14.95) Selected:

Cedar Red (+£14.95)
POPPY TOWER PLAYHOUSE 5FT X 7FT

Solid Sheet Roof and Floor

Tongue & Groove Cladding

3 Fixed Safety Perspex Windows

CE Approved

Suitable for children 3 years old and over

Tower Base Height 1m (3.28ft)

 
Building 1.48m (4.86ft)
Overall height 2.48m (8.14ft)
Factory Base Coat Treatment
FREE UK MAINLAND DELIVERY* 
FAST EXPRESS DELIVERY AVAILABLE*
Poppy Tower Playhouse 5ft x 7ft
FREE UK MAINLAND DELIVERY*


Order Deadline 11am Mon-Fri (all orders placed afterwards will be processed as next working day)
UPGRADE EXPRESS DELIVERY OPTIONS:
(*subject to Post Code Available please check below)


48HR / PICK-A-DAY Delivery Available Mon-Fri – see above for additional charges and check below for available post codes**
SATURDAY or SUNDAY Delivery - when placed by Thur 11am - see above for additional charges and check below for available post codes**

*Please check below if your postcode is available for one of the express services available. If your postcode is listed please add the  48HR / PICK-A-DAY or Saturday, Sunday service to your basket when selecting the product above. When selecting a "Pick A Day "please specify a date in the notes on the checkout page – the day selection must be 48HR from the day or purchase.
All orders must be placed before 11am to qualify (for Saturday deliveries order need to be placed before 11am Thursday prior to the Saturday) All orders placed afterwards will be treated as placed the next working day.
This express service is not available for Installations which are on a standard 10 day service.
PLEASE NOTE THIS CANNOT BE A GUARANTED SERVICE. WE AIM TO DELIVER WITHIN THE RECOMMENDED DELIVERY TIME FOR EACH PRODUCT. HOWEVER SOMETIMES THIS WILL NOT ALWAYS BE POSSIBLE AND CIRCUMSTANCES SUCH AS LORRIES BREAKING DOWN OR STUCK IN TRAFFIC ARE OUT OF OUR CONTROL. IF A PROBLEM ARISES WE WILL ALWAYS CONTACT YOU AS QUICKLY AS WE CAN SO YOU CAN MAKE ALTERNATIVE ARRANGEMENTS. AS THE SELLER WE WILL NOT BE LIABLE TO THE BUYER FOR FAILURE TO DELIVER ON ANY PARTICULAR DATE OR DATES. TIME FOR DELIVERY IS NOT OF THE ESSENCE AND SHALL NOT BE MADE SO BY THE SERVICE OR NOTICE.
**Available Express Delivery Post Codes:
AL; B; BD; BL; BR; CB; CH; CV; DE; DN; DY; E; EN; HA; HD; HX; IG; KT; L; LE; LS; LU; M; MK; N; NG; NN; NW; OL; PE; RM; S; SE; SG; SK; SW; TW; UB; W; WA; WD; WF; WN; WS; WV.
STANDARD FREE DELIVERY*
STANDARD DELIVERY LEAD TIMES (subject to availability & seasonal activity)
Central England & Wales                                                                  1–7 Working days
South West                                                                                        7–14 Working days
Scotland                                                                                             7–14 Working days
N Ireland, Eire, Isle of Man, Isle of Wight, Jersey & Guernsey       7–14 Working days 
*Please note there are additional surcharges to Scotland
Scotland Zone 1 1 AB, PA 20-38, PH 22-26, PH 30-41, PH50, IV 40-48, Rest of IV      £49.95
Scotland Zone 2 (Delivery to port main land IV) HS1-9, KA 27-28, KW15-17, ZE         £49.95
Poppy Tower Playhouse 5ft x 7ft
The Poppy Tower Playhouse is a beautifully designed split level playhouse, offering all manner of creative imaginative opportunities for play. Children will love the cleverly designed split level play area, having playhouse above and shaded area underneath, ideal for a sandpit or bark chipped area. Your children, grandchildren and their friends can enjoy hours of fun in this hugely popular Playhouse, which is carefully manufactured to meet the exceptionally high safety standards of European Toy Standard EN71.
 

Construction

The Tower playhouse is designed with an integral Veranda area. The depth shown includes the 1'11" (0.33m) veranda. In addition the Tower features a front balcony with balustrading and an access ladder. The playhouse is supplied pre-treated with a water based timber treatment for protection against the elements. We recommend you treat the playhouse during construction with a high quality preservative for maximum durability.
We strongly recommend that children use this or any raised play structure under adult supervision at all times.
Order your Tower Playhouse online now and have fun watching children bring it to life !

Please Note: Image for illustration purposes only, playhouse will be supplied unpainted. Toys and accessories shown are not included with the playhouse.Please be aware that the Tulip playhouse has identical specifications and design to the Poppy playhouse- aside from the flower featured on the door of the Tulip which is not included in the design of the Poppy Playhouse.



Features
Solid Sheet Roof and Floor

Tongue & Groove Cladding

3 Fixed Safety Perspex Windows

CE Approved

Suitable for children 3 years old and over

Tower Base Height 1m (3.28ft)

 
Building 1.48m (4.86ft)
Overall height 2.48m (8.14ft)
Factory Base Coat Treatment
FREE UK MAINLAND DELIVERY* 
FAST EXPRESS DELIVERY AVAILABLE*

Pre-Treatment

Your playhouse has been pre-treated with a timber preservative treatment but we do recommend that a further treatment is carried out following constructions to prolong the life of your building. The treatment will protect your shed for approximately 6-8 weeks giving you plenty of time to prepare your base and erect your shed.


Easy Assembly

Each Playhouse comes with fully assembled panels including pre-hung doors and a fixing kit with plenty of nails and felt to complete the roof assembly.


Solid Sheet Material

Constructed using solid sheet material this makes the shed sturdier making the storage or your items no longer a problem.


Side Window Feature

A side window feature ensures natural light floods the interior making the playhouse an ideal play area. 
Deliveries to most parts of mainland UK are free of charge; however deliveries to certain remote areas may be subject to a surcharge. Deliveries to the following locations attract the following charges:
Scotland Zone 1 AB, PA 20-38, PH 22-26, PH 30-41, PH50, IV 40-48, Rest of IV                £49.95
Scotland Zone 2 (Delivery to port UK mainland IV) HS1-9, KA 27-28, KW15-17, ZE          £49.95
Northern Ireland                                                                                                                  £19.95
Ireland (EIRE)                                                                                                                      £39.95
Isle of Wight                                                                                                                         £49.95
Jersey Delivery to Port (JE)                                                                                                 £99.95
Guernsey Delivery to Port (GY)                                                                                            £79.95


*Delivery to PA41-78 is not available
*Delivery to PH22-26, 30-41 and 50 is not available


Isle of Man - Port drop to UK mainland - customer must organise onward transport (sea shipping).
Channel Islands, Jersey, Guernsey and Alderney is to port on the Island - customer must organise forward delivery.

Scottish Isles, Orkney are delivery only to UK mainland port. You will need to arrange the forward delivery from the mainland port (sea shipping).
TYPICAL DELIVERY LEAD TIMES (subject to availability & seasonal activity)
Central England & Wales                                                                   1–7 Working days
South West                                                                                         7–14 Working days
Scotland                                                                                              7–14 Working days
N Ireland, Eire, Isle of Man, Isle of Wight, Jersey & Guernsey          7–14 Working days 
Please Note This is a kerb side delivery only. If you have any special requirements or believe access to your address may be difficult for our delivery driver please contact us. If a refuge vehicle can gain access then generally our delivery lorry should be able to but if in doubt please get in touch with us. If you feel you may be located in such an area please call to check prior to ordering.

PLEASE NOTE YOUR CARD IS DEBITED AT CHECKOUT. We will contact you if a surcharge is applicable and at that point you can chose to accept the charge or cancel the order and we will make a full refund to your card. For our full terms please refer to our Shipping Terms 
How will my goods be delivered?
Typical delivery is 5 – 10 working days but we do aim to deliver a bit quicker, subject to our special express service option (see above for availability) to certain post code areas (please refer to each product for an estimated delivery date, please note this is not a confirmed date). Orders are placed onto our internal system which will feed your order through to a delivery scheduler who will contact you to advise you of a suitable delivery date. This call is usually well within our lead times with you receiving a call from the transport team 24/48 hours prior to your delivery. If you have not been contacted by our delivery team within 10 working days after your have placed your order please email us.

Delivery is between the hours of 7am – 7pm Mon-Fri. For sheds and log cabin deliveries only, it is possible to request a call an hour prior to delivery but this is subject to the driver having a mobile and cannot be a guaranteed service.

Please note for chicken coop deliveries (normally a 24hr service) the driver will not carry a mobile and will not be able to contact you prior to delivery. Delivery will be between the hours of 7am – 7pm
If you are going to be out on the day of delivery, it is possible for the item to be left somewhere (for example down the side of a house) but at your own risk. To do this you must leave a signed note detailing your instructions in a clear location for the driver to see. It is important that you sign the instructions as this will be taken by the courier as proof of delivery. Please note you can discuss this with your delivery scheduler when they call you to book your order in.
Please note for sheds and log cabins we will always contact you by phone prior to delivery to make sure you are happy with the delivery date proposed.

Please note for chicken coop deliveries you will not be contacted prior to delivery as this is in most cases a 24hr service.
We are unable to specify a delivery time during the day of delivery. Our couriers deliver between the hours of 7am – 7pm.
Building Ridge Height :

4' 9" (1.48m)

Door Height:

3' 6" (1.08m)

Eaves Height :

7' 6" (2.28m)

Overall Ridge Height :

8' 2" (2.48m)

Single Door Width :

2' 0" (0.60m)

Tower Base Height :

3' 3" (1m)