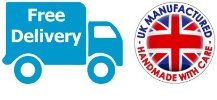 CLIFTON SHEDS

:
**PRE-ORDER** Due back into stock 2nd Week of May 2014*** 10ft x 8ft Premier All Green Metal Shed (3.22m x 2.44m) + FREE 72HR DELIVERY*
**PRE-ORDER** Due back into stock 2nd Week of May 2014*** 10ft x 8ft Premier All Green Metal Shed (3.22m x 2.44m) + FREE 72HR DELIVERY*
Move mouse over Image to zoom
FREE DELIVERY
in 3 working Days*
Estimated Delivery:
Friday, 5 Sep 2014
Product Accessories
Optional Extra's
10ft x 8ft Premier Metal All Green Shed
 FREE 72HR UK MAINLAND DELIVERY*
Order Deadline 11am Mon-Fri (all orders placed afterwards will be processed as next working day)

The Metal Value, MAINTENANCE-FREE Steel Sheds.
The models provide more useable inside floor area to similarly sized metal sheds at 2.02, 4.15 and 6.93 m2 respectively. The smallest (6 x 4) is ideal where available space for a shed is at a premium – including on the residential caravan park, where non-combustible sheds are mandatory.
The middle sized (8 x 6) is arguably the most popular shed size for any garden whilst the largest provides ample storage for even the most cumbersome items. The deep roll formed wall and roof panels provide MUCH IMPROVED STRENGTH when compared to shallow formed cladding of other steel shed. Provide your level, concrete or flagstone base (see BASE Measurements overleaf) to site and secure your shed, ensuring that either option includes a strong plastic sheet BELOW the hard surface to prevent rising damp. Alternatively, choose our strong optional steel foundation kit OR a pre-made tongue and groove timber floor for any of the three models.
Please note: The ventilated gable section is not corrugated
Please Also Note: The product or model name may differ on the packaging from that advertised however this does not affect the intrinsic product
•Totally MAINTENANCE-FREE
•Ribbed Wall Panels for extra strength
•Ventilation through front and rear vents 
•15 Year Warranty - No rust perforation 
•Pad Lockable for Added Security
•Easier assembly
•Strong entry/exit ramp across door opening width 
All of our sheds come with hinged doors for safety and easy access. 
Please note: All metal sheds and storage must be erected on a firm, level (preferably concrete) base and unless stated will not come with floor panels as standard. Please call our Sales Team if you have any questions before you buy.
*Deliveries to most parts of mainland UK are free of charge, however deliveries to certain remote areas may be subject to a surcharge. Deliveries to the following locations attract the following charges: 
Scotland Zone 1 DG, EH, FK, G, KA, KW, KY, ML, PA, TD + £69.95 
Scotland Zone 2 PH*, AB, DD, IV (*Mainland Only) +£199.95
 
Please note the manufacturer (Clifton Sheds) are unable to deliver to the following locations, Northern Scotland (KW, IV postcodes), Scottish Isles, Orkney, Northern Ireland, Ireland, Isle Of Man, Isle Of Wight, Channel Islands. IF YOU ARE LOCATED IN ONE OF THE ABOVE AREAS PLEASE REFER TO THE ESCAPE RANGE WHO CAN DELIVER TO YOUR LOCATION.
 
Please note this is a kerb side delivery only. If you have any special requirements or believe access to your address may be difficult for our delivery driver please contact us. If a refuge vehicle can gain access then generally our delivery lorry should be able to but if in doubt please get in touch with us. If you feel you may be located in such an area please call to check prior to ordering.
PLEASE NOTE YOUR CARD IS DEBITED AT CHECKOUT. We will contact you if a surcharge is applicable and at that point you can chose to accept the charge or cancel the order and we will make a full refund to your card. For our full terms please refer to our Shipping Terms.
 
How will my goods be delivered? 
Typical delivery is 5 working days but we do aim to deliver a bit quicker, (please refer to each product for an estimated delivery date, please note this is not a confirmed date). Orders are placed onto our internal system which will feed your order through to a delivery scheduler who will contact you to advise you of a suitable delivery date. This call is usually well within our lead times with you receiving a call from the transport team 24/48 hours prior to your delivery. If you have not been contacted by our delivery team within 10 working days after your have placed your order please email us.
 
Delivery is between the hours of 7am – 7pm Mon-Fri. For sheds and log cabin deliveries only, it is possible to request a call an hour prior to delivery but this is subject to the driver having a mobile and cannot be a guaranteed service. 
Please note for chicken coop deliveries (normally a 24hr service) the driver will not carry a mobile and will not be able to contact you prior to delivery. Delivery will be between the hours of 7am – 7pm 
If you are going to be out on the day of delivery, it is possible for the item to be left somewhere (for example down the side of a house) but at your own risk. To do this you must leave a signed note detailing your instructions in a clear location for the driver to see. It is important that you sign the instructions as this will be taken by the courier as proof of delivery. Please note you can discuss this with your delivery scheduler when they call you to book your order in. 
Please note for sheds and log cabins we will always contact you by phone prior to delivery to make sure you are happy with the delivery date proposed.
Please note for chicken coop deliveries you will not be contacted prior to delivery as this is in most cases a 24hr service. 
We are unable to specify a delivery time during the day of delivery. Our couriers deliver between the hours of 7am – 7pm.
Door Opening Size ( w x h) :

132cm x 159.1cm

Material:

Galvanised Steel

Roof Material :

Galvanised Steel

Supplied with Fixtures and Fittings :

Yes
Customers Reviews

Review by Aaron Smith
Reviewed on 14 Jun 2011

good quality. good price. pleased with purchase