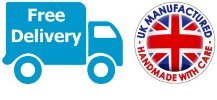 Cobra

:
Petrol 4 In 1 Rotary 4 Speed Self Propelled Lawnmower - 51cm - Cobra Mx514spb - Free Next Day Delivery*
Move mouse over Image to zoom
RRP : £905.26
Save : £415.93 (46%)
6 left in Stock
212 Views in the last 24 hours
8 Purchases in the last 24 hours

Google Customer Rating:

4.5 out of 5
FREE DELIVERY
in 1 working Days*
Estimated Delivery:
Tuesday, 20 Apr 2021

Get a great price on our quality Petrol 4 in 1 Rotary 4 Speed Self Propelled Lawnmower - 51cm - Cobra MX514SPB - Free Next Day Delivery*, available online with Free UK Delivery | Buy Online Today
* Briggs & Stratton 650 series - designed to deliver unprecedented reliability and performance, this series of engines has established itself as the preferred choice of engine. Ideal to power Cobra lawnmowers for gardens up to 1000 square meters
* Mulch plug - the MX514SPB lawnmower from Cobra comes equipped with a mulch plug to enable you to mulch your grass clippings back into the lawn. Mulching lawnmowers recycle the grass by finely cutting and re-cutting the clippings. As the clippings decompose, nutrients and fertilisers are returned to the soil meaning you can cut the grass and fertilise at the same time
* Side discharge - if you don't want to collect your grass cuttings or your lawn has become overgrown, the MX514SPB comes equipped with a side discharge function. Simply lift the side blanking plate and insert the side discharge chute. The grass will now be discharged in neat lines to the side of where you are mowing
* Four speed gearbox - the Cobra MX514SPB petrol lawnmower comes equipped with comfort handles and self propelled drive system with 4 speed gearbox. The self propelled drive system takes all the effort out of pushing your Cobra lawnmower, meaning you can maintain your lawn. The 4 speed gearbox gives you total control for ultimate mowing
* Robust high quality steel deck
* Seven cutting heights from 25-75mm
* Folding handlebar for easy storage
* Fuel tank capacity - 1.0 litre
* Wheel size - front 8" & rear 11"
* Collection system - 4 in 1 function
Please note photos are for illustrative purposes and may include optional extras which may not be included in the base price.
 
 
Cobra MX514SPB Petrol 4 in 1 Rotary Self Propelled Lawnmower - 51cm
 
 
FREE NEXT DAY UK MAINLAND DELIVERY*

Order Deadline 2pm Mon-Fri (all orders placed afterwards may be processed as next working day).
 

 
 
Cobra MX514SPB Petrol 4 in 1 Rotary Self Propelled Lawnmower - 51cm


Product Information

 The Cobra MX514SPB Petrol 4 in 1 Self Propelled Lawnmower combines the top quality design, excellent value and exceptional performance that Cobra is known for. It has been expertly designed to cater specifically for the changing conditions of the British lawn. With its 51cm / 20" cut it is ideally suited to medium to large sized lawns. Powered by a Briggs & Stratton XRQ 650E Series OHV Easy Start 4 Stroke 190cc engine it is self propelled with a reliable 4 speed gear box. It has 7 adjustable cutting heights ranging from 25mm for a superb low finish, up to 75mm for tackling longer grass. All this is achieved by simply using the single height of cut adjustment lever. Depending on the height of your grass, you can easily and efficiently adjust the cutting height to suit. It is equipped with a 60 litre fabric grass bag, ideal for collecting large amounts of grass clippings before the need for emptying. The grass bag on the Cobra MX514SPB is made from a robust, high quality fabric. This fabric enables a strong free flow of air which means that grass collection on this machine is even more compact and comprehensive. This model can cut & collect with it's large 60ltr grass box, or side discharge longer more overgrown grass or be set to mulch and recycle the clippings. It has a robust steel cutting deck for years of happy mowing and quick release folding handles for easy storage. It also comes with a 2 year manufacturers domestic warranty.

Features And Benefits
Cutting Width: 51cm/20"

Briggs & Stratton XRQ 650E Series OHV Easy Start 4 Stroke 150cc Petrol Engine

4 Speed Self Propelled

Rotary Blade With 4 in 1 Function

Cut & Collect Function

Side Discharge Function

Mulch & Recycle Function

Robust High Quality Steel Deck

7 Stage Cut Height Adjuster

25-75mm Cutting Height

60ltr Grass Collector

1 Litre Fuel Tank

Folding Handlebars For Easy Storage

Direct Collection

Weight: 35kg

2 Year Domestic Warranty

 
*Deliveries to most parts of mainland UK are free of charge, however deliveries to certain remote areas may be subject to a surcharge. Deliveries to the following locations attract the following charges:

Northern Ireland £49.95
Ireland (EIRE) £49.95
Isle of Man £59.95
Isle of Wight £19.95
Guernsey £39.95
Jersey £39.95
Scotland Zone IV 3-40, IV 52-54, IV63, KY 1-14, PA 20-40, PH19-40, PH60 £19.95

Please Note This is a kerb side delivery only. If you have any special requirements or believe access to your address may be difficult for our delivery driver please contact us. If a refuge vehicle can gain access then generally our delivery lorry should be able to but if in doubt please get in touch with us. If you feel you may be located in such an area please call to check prior to ordering.

PLEASE NOTE YOUR CARD IS DEBITED AT CHECKOUT. We will contact you if a surcharge is applicable and at that point you can chose to accept the charge or cancel the order and we will make a full refund to your card. For our full terms please refer to our Shipping Terms
How will my goods be delivered?
Typical delivery is 1 working day (please refer to each product for an estimated delivery date, please note this is not a confirmed date).

Delivery is between the hours of 7am – 7pm Mon-Fri. For The driver will not carry a mobile and will not be able to contact you prior to delivery. Delivery will be between the hours of 7am – 7pm
If you are going to be out on the day of delivery, it is possible for the item to be left somewhere (for example down the side of a house) but at your own risk. To do this you must leave a signed note detailing your instructions in a clear location for the driver to see. It is important that you sign the instructions as this will be taken by the courier as proof of delivery. Please note you can discuss this with your delivery scheduler when they call you to book your order in.
Delivery driver was extremely helpful. The pixie playhouse is beautiful BUT absolute nightmare to build.
Outstanding quality for the price. Everything MM perfect fit, flawless. ;-)
Excellent product. The experienced shed builder found the instructions somewhat lacking, particularly in relation to the roof. However it looks good and is waterproof. After sales service was both good and not so good. Sid was good. As was the presales representative Natalie.
I visited the premises to see the sheds and quality of the product before making a decision. The company were able to make a pent shed to the specific size I wanted. Adam was very helpful and knowledgeable about the sheds they sell. My bespoke shed was delivered and erected - thanks Jamie and helper - 9 days later. Great service and product. I can recommend them.