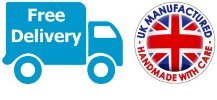 Cobra

:
Cobra 1300w Electric Scarifier - Cobra S32e - 32cm Raking Width - Free Next Day Delivery*
Move mouse over Image to zoom
Google Customer Rating:

3.5 out of 5
Get a great price on our quality Cobra 1300w Electric Scarifier - 32cm Raking Width - Free Next Day Delivery*, available online with Free UK Delivery | Buy Online Today
FREE DELIVERY
in 1 working Days*
Estimated Delivery:
Monday, 22 Apr 2019

Please note photos are for illustrative purposes and may include optional extras which may not be included in the base price.
 
 
Cobra 1300w Electric Scarifier - 32cm
 
 
FREE NEXT DAY UK MAINLAND DELIVERY*

Order Deadline 2pm Mon-Fri (all orders placed afterwards may be processed as next working day).
 

 
 
Cobra 1300w Electric Scarifier - 32cm


Product Information
Every Cobra electric scarifier has been expertly designed in the UK to cater specifically for the changing conditions of the British lawn. The Cobra Electric powered scarifier/lawn raker comes with a powerful 1300W motor and has a 32cm/13" working width. It has an aerating blade drum and a scarifying tine drum included. Driven by it's powerful 1300w motor it will make short work of your lawn care, effortlessly removing moss and thatch from your lawn thanks to it's strong raking performance and incredible tine/blade speed.  This allows more room for your grass to grow. It has 10m cable to ensure that you can reach all corners of your garden without the need for extra help.


Features And Benefits
Raking Width: 32cm/13"

Powerful 1300 Watt Electric Motor

Interchangable Scarifying Drum & Bladed Aerator

Working Depth - 10mm

 

5 HOC

30 Litre Collecting Bag

10m Cable

2 Month Domestic Warranty

 
*Deliveries to most parts of mainland UK are free of charge, however deliveries to certain remote areas may be subject to a surcharge. Deliveries to the following locations attract the following charges:

Northern Ireland £49.95
Ireland (EIRE) £49.95
Isle of Man £59.95
Isle of Wight £19.95
Guernsey £39.95
Jersey £39.95
Scotland Zone IV 3-40, IV 52-54, IV63, KY 1-14, PA 20-40, PH19-40, PH60 £19.95

Please Note This is a kerb side delivery only. If you have any special requirements or believe access to your address may be difficult for our delivery driver please contact us. If a refuge vehicle can gain access then generally our delivery lorry should be able to but if in doubt please get in touch with us. If you feel you may be located in such an area please call to check prior to ordering.

PLEASE NOTE YOUR CARD IS DEBITED AT CHECKOUT. We will contact you if a surcharge is applicable and at that point you can chose to accept the charge or cancel the order and we will make a full refund to your card. For our full terms please refer to our Shipping Terms
How will my goods be delivered?
Typical delivery is 1 working day (please refer to each product for an estimated delivery date, please note this is not a confirmed date).

Delivery is between the hours of 7am – 7pm Mon-Fri. For The driver will not carry a mobile and will not be able to contact you prior to delivery. Delivery will be between the hours of 7am – 7pm
If you are going to be out on the day of delivery, it is possible for the item to be left somewhere (for example down the side of a house) but at your own risk. To do this you must leave a signed note detailing your instructions in a clear location for the driver to see. It is important that you sign the instructions as this will be taken by the courier as proof of delivery. Please note you can discuss this with your delivery scheduler when they call you to book your order in.