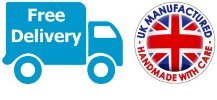 Move mouse over Image to zoom
Google Customer Rating:

3.5 out of 5
FREE DELIVERY
in 3 working Days*
Estimated Delivery:
Thursday, 29 Aug 2019

Concrete-In Post Shoes offer an alternative means of securing your posts into soil, especially when ground conditions are unsuitable for Drive-In Spikes. Made from 2.5mm galvanised steel, which has been powder coated to provide extra protection from corrosion. To assemble you simply set each Concrete-In Post Shoe into a 450mm minimum cube of concrete and then allow to cure. Once cured, you can then begin inserting and securing your wooden fence posts using the bolts provided. If you do need to remove a post, the Bolt Down Shoe has a twin bolt mechanism that allows for easy removal. Available for both the 75mm and 100mm Posts
Delivery driver was extremely helpful. The pixie playhouse is beautiful BUT absolute nightmare to build.
Outstanding quality for the price. Everything MM perfect fit, flawless. ;-)
Excellent product. The experienced shed builder found the instructions somewhat lacking, particularly in relation to the roof. However it looks good and is waterproof. After sales service was both good and not so good. Sid was good. As was the presales representative Natalie.
I visited the premises to see the sheds and quality of the product before making a decision. The company were able to make a pent shed to the specific size I wanted. Adam was very helpful and knowledgeable about the sheds they sell. My bespoke shed was delivered and erected - thanks Jamie and helper - 9 days later. Great service and product. I can recommend them.