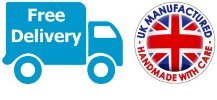 Escape Fencing

:
4ft Pressure Treated Convex Horizontal Weave + Trellis - 1 Panel Only (min Order 3 Panels) + Free Delivery*
Move mouse over Image to zoom
Google Customer Rating:

3.5 out of 5
Delivery Check and BOOK a SLOT
| | | |
| --- | --- | --- |
| | Please enter your post code to check our delivery dates | |
| | | |
Get a great price on our quality 4FT Pressure Treated Convex Horizontal Weave + Trellis - 1 Panel Only (Min Order 3 Panels) + Free Delivery*, available online with Free UK Delivery | Buy Online Today
4FT PRESSURE TREATED CONVEX HORIZONTAL WEAVE FENCING PANELS

1 PANEL (3 min qty)
Panel Width 6ft
Anti-Rot Guarantee 10 Years

Pressure Treated

Easy Assembly
PLEASE SEE "HOW TO ORDER FENCING" TAB
FREE UK MAINLAND DELIVERY*

UPGRADE EXPRESS DELIVERY*
4FT Pressure Treated Convex Horizontal Weave + Trellis - 1 Panel Only (Min Order 3 Panels) + Free Delivery*
A great fencing solution for your garden. Easy to assemble and will look great in your garden. 
Horizontal Weave Convex Trellis Pressure Treated Panels are a decorative alternative to the standard Horizontal Weave fencing panels. If you're looking to create something stylish upon your boundary or partially screen an area of your garden (such as a shed or a patio), then these modern fence panels are ideal. These quality continental fence panels are formed from smooth planed and spaced horizontal boards, offset either side of vertical battens and all secured within a convex-top full outer frame. This partial trellis variant benefits from the inclusion of a diagonally structured, full-width integral convex trellis. All formed with FSC-Certified timber sourced from managed resources, these modern fencing panels have been pressure treated for a longer lifespan. It should be noted that the 1m height of this convex panel refers to the top of the dome (the highest point), thus the panels are lower than 1m at the sides.


 
Features
4FT Pressure Treated Convex Horizontal Weave + Trellis Fencing Panels

3 Panels (min order)

Panel Width 6ft

Anti-Rot Guarantee 10 Years

Posts Optional 75mm x 75mm or 100mm x 100mm

Posts Pressure Treated

Panels 

Pressure Treated
Easy Assembly
FREE MAINLAND DELIVERY*

Panel Dimensions & Weight
Height 4FT (1.2M) 
Panel Width 5FT 11INCH (1.800M) 
Panel Weight 72.6 KG 


Post Dimensions
Post Height: n/a
Post Width: n/a
Post Depth: n/a

This selection is to help you bespoke build your fencing selection. If you prefer to buy everything inclusive please select from a Panel & Post Pack option on the left. 
Specification Table
| | | | | | |
| --- | --- | --- | --- | --- | --- |
| Pack Quantities | Panel Width | Number of Posts (Optional) | Coverage PANEL ONLY (Metres) | Coverage with Panels and 75mm Posts (Metres) | Coverage with Panels and 90mm Posts (Metres) |
| 3 Panel Pack | 1.8m (5'11") | 4 Posts | 5.40 | 5.70 | 5.76 |
| 4 Panel Pack | 1.8m (5'11") | 5 Posts | 7.20 | 7.595 | 7.65 |
| 5 Panel Pack | 1.8m (5'11") | 6 Posts | 9.00 | 9.45 | 9.54 |
| 6 Panel Pack | 1.8m (5'11") | 7 Posts | 10.80 | 11.325 | 11.43 |
| 7 Panel Pack | 1.8m (5'11") | 8 Posts | 12.60 | 13.20 | 13.32 |
| 8 Panel Pack | 1.8m (5'11") | 9 Posts | 14.40 | 15.075 | 15.21 |
| 9 Panel Pack | 1.8m (5'11") | 10 Posts | 16.20 | 16.95 | 17.10 |
| 10 Panel Pack | 1.8m (5'11") | 11 Posts | 18.00 | 18.825 | 18.99 |
How to order your fencing (follow steps according to your individual requirements)
Select additional fencing from the Optional Extra above

Base price includes 3 panels (min qty)

Choose number of clips you require

3ft & 4ft we recommend 4 clips per panel

5ft & 6ft we recommend 6 clips per panel

Select in relation to number of panels ordered

Optional Gravel Boards

You will need one gravel board per panel

N.B this will raise height of fence

Optional Posts

You will need 1 more post than qty of panels

i.e. 4 Panels requires 5 posts etc

Select size 75mm or 100mm and qty

Optional Post Caps

Add caps for durability

Please select correct size

75mm posts require 100mm caps

100mm posts require 125mm caps

Optional Drive in Spikes

You will need one spike per post

Optional Flush Fit/Bolt Down Shoe

You will need one spike per post

Optional Concrete-in Shoe

You will need one shoe per post
Panel Width :

5FT/ 11INCH/ (1.8M)
STANDARD UK FREE DELIVERY*
Delivery is Free on all orders over £50 to UK MAINLAND*
All orders under £50 will attract a charge of £20.00
Fast Express UK Delivery Available. We offer a 24hr/48hr – SAT- SUN and Pick-A-Day Delivery on the majority of our Garden Buildings. We are also able to provide AM/PM slots to most postcodes.
Please use our live online booking calendar "Delivery Postcode Checker" which is available on the majority of our product pages – just by entering your postcode we can provide live delivery slots for your order. Just select the date and this will be added to your order.
BOOKING YOUR DELIVERY DATE - LIVE DELIVERY POSTCODE CHECKER
Please use the delivery date checker tool on each page. Please enter your postcode to see available live delivery dates. We are also able to provide AM/PM delivery slots to most postcodes. Please select your option where available. You will be able to add additional delivery information at check-out. Live Delivery Slots not available for products with Installation.
DELIVERY LEAD TIMES
Central England & Wales  1–7 Working days
South West  7–14 Working days
Scotland   7–14 Working days
Northern Ireland, Eire, Isle of Wight, Jersey & Guernsey   7–14 Working days
HOW WILL MY GOODS BE DELIVERED?
Please be advised delivery is kerb side delivery only. It is at the discretion of the driver if they are able to drop the garden building to a different location. If you have any special requirements or believe access to your address may be difficult for our delivery driver please contact us as soon as possible. A general rule of thumb is that if a refuge vehicle can gain access then generally our delivery lorry should be able to but if in doubt please get in touch with us.
Typical delivery is 1 – 20 working days but we do aim to deliver a bit quicker. Once you have placed your order you will be contact by our delivery team to confirm your delivery date. If you have not been contacted by our delivery team within 10 working days after you have placed your order please email us or call us and we will chase this for you.
Delivery is between the hours of 7am – 7pm Mon-Sun. It is possible to request a call an hour prior to delivery but this is subject to the driver having a mobile and cannot be a guaranteed service. Please note this is not possible for Metal sheds where the product is shipped with a courier.
If you are going to be out on the day of delivery, it is possible for the item to be left somewhere (for example down the side of a house) but at your own risk. To do this you must leave a signed note detailing your instructions in a clear location for the driver to see. It is important that you sign the instructions as this will be taken by the courier as proof of delivery.
Please note for sheds, summerhouses, playhouses, fencing and log cabins we will always contact you by phone or by email to confirm a delivery date – we will not just turn up unannounced – if you do not have a confirmed delivery date please email us or call us.
We are unable to specify a delivery time during the day of delivery. Our couriers and deliver team - deliver between the hours of 7am – 7pm. Routes are planned the night before delivery so on most products we will be able to give you a drop number on the day of delivery.
Please note your card is debited at checkout. This is to protect you the customer as we do not store your credit card details. We will contact you if a surcharge is applicable and at that point you can chose to accept the charge or cancel the order and we will make a full refund to your card. For our full terms please refer to our Shipping Terms
SPECIAL WINDOWLESS BUILDINGS
This will revert to a standard 10 working days delivery service
INSTALLATION OPTION
All products with installation will revert to our standard 14 working days delivery. You will be contacted to book in an install day. Product delivery and installation will take place on separate days.
** Please note we are unable to offer installation to the following Postcodes - AB, PH, DD, PA, IV, KW **

REMOTE DELIVERY AREAS*
*Deliveries to most parts of mainland UK are free of charge. However deliveries to certain remote areas may be subject to a surcharge.
Deliveries to the following locations attract the following charges:
Scotland Zone 1 - All of AB, IV 40-48, Rest of IV and KW, PA 21-33, PA35-38, PH 22-26, PH 30-41, PH50                   £59.95
Scotland Zone 2 - (Delivery is to port mainland only) HS1-9, IV41-51, IV55-56, KA 27-28, KW15-17, PA34, ZE           £59.95
Isle of Wight (PO30-40)                          £59.95
Northern Ireland (BT)                             £29.95
Eire (Southern Ireland)                           £49.95                                                                                  
Guernsey (GY) delivery to port                £109.36
Jersey (JE) delivery to port                     £124.99
**No Delivery Service is Available to Isle Of Man or to Scottish Isles (only mainland port) including PA41-78, PH42-44 
GENERAL DELIVERY T&C's
We are here to help and aim to deliver within the recommended delivery time for each product. However sometimes this will not always be possible and any delivery or dispatch date given is only approximate and as the seller will not be liable to the Buyer for failure to deliver on any particular date or dates. Time for delivery is not of the essence and shall not be made so by the service or any notice.
It is your responsibility to check that all the parts are present and correct, so that in the unlikely event that parts may be missing, incorrect, or damaged, you can ensure we have reasonable time to supply replacements (We aim to typically replace parts within seven days assuming replacement parts are in stock, however if we have to manufacture parts this time frame may be longer). Should you use a third party to carry out the installation please ensure that you give them sufficient time to familiarise themselves with the material and instructions supplied, that all the parts are present and that you have actually received the goods before committing to an installation date.
Delivery driver was extremely helpful. The pixie playhouse is beautiful BUT absolute nightmare to build.
Outstanding quality for the price. Everything MM perfect fit, flawless. ;-)
Excellent product. The experienced shed builder found the instructions somewhat lacking, particularly in relation to the roof. However it looks good and is waterproof. After sales service was both good and not so good. Sid was good. As was the presales representative Natalie.
I visited the premises to see the sheds and quality of the product before making a decision. The company were able to make a pent shed to the specific size I wanted. Adam was very helpful and knowledgeable about the sheds they sell. My bespoke shed was delivered and erected - thanks Jamie and helper - 9 days later. Great service and product. I can recommend them.