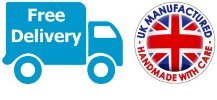 Cheshire

:
INSTALLED 8 x 6 Deluxe Modular Tongue And Groove Shed (11mm Solid OSB Floor) INCLUDES INSTALLATION
Move mouse over Image to zoom
Google Customer Rating:

3.5 out of 5
Double doors and tongue and groove walls, 8' x 6' deluxe modular tongue and groove shed, ideal shed for any outdoor space if you need a place for storing larger equipment and also has a single styrene glazed window.
FREE DELIVERY
in 28 working Days*
Estimated Delivery:
Tuesday, 26 Feb 2019

Product Accessories
Foundation Building Base (instead of concrete or paving slabs)
8FT x 6FT MODULAR TONGUE & GROOVE SHED 
 

The Deluxe Modular Shed features high eaves and extra headroom giving you a generous large space for storing your bulky items and is an ideal shed for any garden. The apex roof makes the shed an attractive feature of any garden.


Construction
The shed is constructed from high quality tongue and groove shiplap cladding which is supplied with a free factory basecoat dipped in a honey brown finish.

The high quality floor joists give the shed a solid and sturdy feel.

The roof and floor are constructed from Solid OSB Board.

The large fixed side styrene glazed window provides plenty of light into your shed.
Features
Height 7'7" (2320mm)

Width 6'4" (1945mm)

Depth 8'1" (2480mm)

TONGUE & GROOVE SHED 

Single Styrene Glazed Window - can be placed either side

Double Doors

Ideal for storage of bulky equipment

High Eaves for Extra Headroom

Tongue & Groove Walls 

Wall Thickness 12mm

Solid OSB Sheet Material Floor & Roof 

Full fixing kit including felt & instructions manual

Dipped in Honey Brown Finish 

Easy Assembly

Green Mineral roofing felt

Scandinavia FSC Pine (mixture of red & white)

10 YEAR ANTI-ROT WARRANTY 

FREE UK MAINLAND DELIVERY*
Pre-Treatment 
Your shed has been pre-treated with a timber preservative treatment but we do recommend that a further treatment is carried out following constructions to prolong the life of your building.

The treatment will protect your shed for approximately 6-8 weeks giving you plenty of time to prepare your base and erect your shed.
 Easy Assembly 
Each shed comes with fully assembled panels including pre-hung doors and a fixing kit with plenty of nails and felt to complete the roof assembly.
Tongue & Grooved Walls & Floor 
Tongue & Groove Construction is traditional type of cladding designed to give a smoother enhanced finish whilst also making the shed more resistant to the weather.

A Tongue & Grooved Floor making the shed sturdier and stronger for heavier items.
Effective Working Space
The Deluxe Security Shed has generous ridge height and has been designed to provide a workspace or place to store all of your garden essentials, making the Deluxe Workshop the ideal building to convert into a home workshop.
Door Opening Height:

5'6" (1.68m)

Door Opening Width:

3'10" (1.18m)

Footprint Depth:

7'8" (2.35m)

Footprint Width:

5'9" (1.77)
FREE STANDARD UK MAINLAND DELIVERY*
LEAD TIMES (subject to availability & seasonal activity)
Central England & Wales                                                                                                 10 Working days
South West                                                                                                                          10 Working days
Scotland                                                                                                                               15 Working days
*Deliveries to most parts of mainland UK are free of charge. Rowlinson do not charge to delivery to Scotland.            
**No Delivery Service is Available to Isle Of Man, Scottish Isles (only mainland port), Isle Of Wight and Channel Islands.
IF YOU ARE LOCATED IN ONE OF THE ABOVE AREAS PLEASE REFER TO THE ESCAPE RANGE WHO CAN DELIVER TO YOUR LOCATION.
BOOKING YOUR DELIVERY DATE
Once your order has been placed, you will be contacted by our manufacturer's delivery team and you will be advised of a specific delivery date. You will be able to add additional delivery information at this point. Your garden building is manufactured to order. Please contact us if you have not be contact within in 10 Days.
HOW WILL MY GOODS BE DELIVERED?
Please be advised delivery is kerb side delivery only. It is at the discretion of the driver if they are able to drop the garden building to a different location. If you have any special requirements or believe access to your address may be difficult for our delivery driver please contact us as soon as possible. A general rule of thumb is that if a refuge vehicle can gain access then generally our delivery lorry should be able to but if in doubt please get in touch with us.
Typical delivery is 1 – 20 working days but we do aim to deliver a bit quicker. Once you have placed your order you will be contact by our delivery team to confirm your delivery date. If you have not been contacted by our delivery team within 10 working days after your have placed your order please email us or call us and we will chase this for you.
Delivery is between the hours of 7am – 7pm Mon-Sun. It is possible to request a call an hour prior to delivery but this is subject to the driver having a mobile and cannot be a guaranteed service. Please note this is not possible for Metal sheds where the product is shipped with a courier.
If you are going to be out on the day of delivery, it is possible for the item to be left somewhere (for example down the side of a house) but at your own risk. To do this you must leave a signed note detailing your instructions in a clear location for the driver to see. It is important that you sign the instructions as this will be taken by the courier as proof of delivery.
Please note we will always contact you by phone or by email to confirm a delivery date – we will not just turn up unannounced – if you do not have a confirmed delivery date please email us or call us.
We are unable to specify a delivery time during the day of delivery. Our couriers deliver between the hours of 7am – 7pm. Routes are planned the night before delivery so on most products we will be able to give you a drop number on the day of delivery.
Please note your card is debited at checkout. This is to protect you the customer as we do not store your credit card details. We will contact you if a surcharge is applicable and at that point you can chose to accept the charge or cancel the order and we will make a full refund to your card. For our full terms please refer to our Shipping Terms