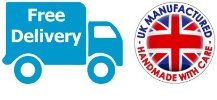 Shop by Size / Type / Brand
Incredible range of Garden Storage at cheap prices - from iLikeSheds.com
Ilikesheds offer a great range of garden storage options including metal garden storage, plastic garden storage and wooden garden storage. Garden storage is perfect for storing all your garden clutter and we have a range of garden storage options in all shapes and sizes to suit all gardens. We are sure within our extensive garden storage range that you will find the perfect garden storage solution that fits all your requirements.
The superb range of Garden Storage at ilikesheds includes a selection of metal storage, plastic storage and wooden storage with a variety of compact sizes for easy storing of household or garden items. The metal storage includes powder casing which ensures a resistance to weathering, rusting and blistering. These are ideal for storing gardening equipment. The plastic storage range includes water resistant plastic which is great for general items and the wooden storage utilises tongue and grooved cladding which matches the look of our wooden garden sheds. These are great for storing tools and DIY and garden machinery.
The Garden Storage is ideal for additional storage inside or outside your house or even inside your garden shed. ilikesheds garden storage has free delivery – 48 hour / sat / pick-a-day  to a wide range of UK postcodes and can be easily assembled by two people. Each one of the garden storage range including the metal storage, the plastic storage and the wooden storage is weather resistant.
Our wooden storage selection ranges from small, compact wooden storage options like the 4' x 3' Escape Garden Storage Chest, up to larger wooden garden storage options such as our 7' x 3' Escape Apex Bike Shed and Escape Overlap Mower Store.
Our wooden storage boxes are produced from renewable FSC accredited sources, and we are so confident in the quality of our range that with our wooden storage range we offer a 10 year anti-rot guarantee if the building is treated with a high quality, spirit-based, timber preservative prior to or shortly after construction.
From compact roller door metal storage units to large metal sheds, ilikesheds offer metal storage solutions for any gardens of any size. Smaller garden equipment can be securely stored in our roller door units, which have an inbuilt cylinder lock, whilst our range of metal sheds are tall enough to accommodate larger gardening tools or sports equipment.
Our metal storage range offers superb protection from not only bad weather, but also against pests and bugs, keeping your gardening equipment safe and secure. When purchased with a padlock, our metal sheds are equally strong and secure, hiding away your expensive bicycles, lawnmowers and children's play equipment from potential thieves.
Our plastic storage and plastic shed range are constructed from weather resistant plastic in order to keep your garden equipment dry, safe and secure. With no treatment necessary, as with wooden storage and wooden sheds, our plastic storage boxes are low maintenance, and require no building or DIY skills.
Each plastic storage box has a sloping roof design to drain away rainwater, and can be padlocked to ensure safety of your garden valuables.