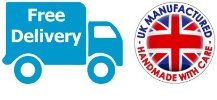 Shop by Size / Type / Brand
Extensive range of Workshops to buy at truly cheap prices!
ilikesheds provide a wide range of wooden workshops, metal workshops and garages, each designed to offer you a superior storage and working space for use in your garden.
Our wooden garden workshops are designed with an apex roof style, giving spacious overhead storage, and come in a choice of tongue and groove or overlap construction styles. Each workshop incorporates double doors for ease of access to your wooden workshop, and windows (which can be placed either side) to provide plentiful natural light to enable you to work comfortably. ilikesheds also offer FREE Pick Your Day / 48 Hour / Sat Delivery service across our range of wooden workshops, and home installation service is available for an additional charge.
For a superb wooden garage option, we offer a 20ft x 10ft Workshop, both in Tongue & Groove of Overlap offering a large workshop space for you to work in. Our range of wooden workshops, metal workshops and garages (available in titanium or pale eucalyptus finishes) provide a durable, long lasting building, ideal for storing your car, motorbike, bicycles and garden tools and equipment. Our metal workshops and garages are delivered in pre-assembled steel panels, utilising the SnapTite assembly system to aid construction at home.