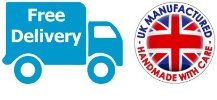 Salford

:
6 x 3 Deluxe Six Metal Shed
Move mouse over Image to zoom

Hot dipped galvanised steel construction, 6' x 3' deluxe metal shed, ideal shed for storing your garden tools in one place and includes an easy assembly instructions manual.
FREE DELIVERY
in 20 working Days*
Estimated Delivery:
Monday, 27 Jun 2016
6FT x 3FT DELUXE SIX METAL SHED (1.83m x 0.92m) 


FREE UK MAINLAND DELIVERY*

Order Deadline 11am Mon-Fri (all orders placed afterwards will be processed as next working day)

INSTALLATION IS AVAILABLE ON THIS PRODUCT - PLEASE SELECT FROM THE OPTIONS ABOVE
183cm fronted hot-dipped galvanised quality steel apex roofed shed with ventilated gables and high 178cm wall height.
 Product Information
HOT- DIPPED GALVANISED STEEL CONSTRUCTION THROUGHOUT
20 YEAR 'NO RUST PERFORATION' GUARANTEE
EXTRA HIGH WALLS – 178 cm EAVES HEIGHT
VENTILATED GABLES AS STANDARD TO ALL MODELS
NO CRACKS OR WARPS
ROT AND RODENT PROOF STORAGE
STRAIGHTFORWARD ASSEMBLY WITH FULL INSTRUCTIONS
STRONG EXIT / ENTRY RAMP ACROSS THE FULL DOOR OPENING WIDTH
A GOOD RANGE OF OPTIONAL ACCESSORIES AVAILABLE

DEDICATED HOME DELIVERY SERVICE, WITH PRE-BOOKED DELIVERIES CARRIED OUT BY OUR OWN VEHICLES AND STAFF
TYPE

ROOF
FRONT x SIDES

AT BASE
FRONT x SIDES

HEIGHT
APEX = RIDGE, PENT = FRONT LEAN-TO = PEAK

NO OF CARTONS (kg)

6 x 3

183 x 92 cm

171 x 82 cm

APEX 193 cm

1 (A = 44 kg)

6 x 4

183 x 123 cm

171 x 113 cm

APEX 193 cm

1 (A = 49 kg)

6 x 5

183 x 154 cm

171 x 144 cm

APEX 193 cm

1 (A = 54 kg)

6 x 6

183 x 186 cm

171 x 175 cm

APEX 193 cm

1 (A = 59 kg)

6 x 7

183 x 216 cm

171 x 206 cm

APEX 193 cm

1 (A = 64 kg)
SPECIFICATIONS OF STEEL USED IN THE ' CANBERRA ' SHED RANGE

Pre Painted Galvanised Steel Sheet –Utilised for the wall, roof and doors of the storage unit

Thickness

0.25mm

Base Metal Thickness (bmt)

Tensile

G550

High Tensile

Coating

Z18

180 grams of Zinc Coating per m 2

Paint Top Primer

5 mic.

Epoxy Primer

Paint Top Coat

18-20 mic.

Regular Modified Polyester

Paint Back Primer

5 mic.

Epoxy Primer

Paint Back Top Coat

10 mic.

Epoxy Light Grey

Galvanised Steel Sheet -Utilised for the frame of the storage unit

Thickness

0.55 - 0.7 mm

Base Metal Thickness (bmt)

Tensile

G300

Mild Steel

Coating

Z275

275 grams of Zinc Coating per m 2
 
Please note: All metal sheds and storage must be erected on a firm, level (preferably concrete) base and unless stated will not come with floor panels as standard. You will need to purchase an anchor kit from a local DIY shop to secure your metal shed to the concrete base. Please call our Sales Team if you have any questions before youbuy.
6ft x 3ft:

(1.83m x 0.92)

Base Width x Depth:

1.71m x 0.82m

Box:

40kg 184x76x9 (LxWxD)

Colour:

Federation Green/Cream

Main Door Opening Size:

1.70m x 0.69m

Roof Front & Sides:

1.83m x 0.92m
FREE STANDARD UK MAINLAND DELIVERY*
LEAD TIMES (subject to availability & seasonal activity)
Central England & Wales                                                                                                 10 Working days
South West                                                                                                                          10 Working days
Scotland                                                                                                                               15 Working days
*Deliveries to most parts of mainland UK are free of charge. However deliveries to certain remote areas may be subject to a surcharge.
Deliveries to the following locations attract the following charges:
Scotland Zone 1 AB, PA 20-38, PH 22-26, PH 30-41, PH50, IV 40-48, Rest of IV               £59.95
Scotland Zone 2 (Delivery to port main land IV) HS1-9, KA 27-28, KW15-17, ZE               £59.95
Ireland (EIRE)                                                                                                                            £59.95
Isle Of Wight, Isle Of Man                                                                                                        £59.95  
**No Delivery Service is Available to Scottish Isles (only mainland port), Channel Islands, Northern Ireland, PA41-78, PH22-26, PH30-41 and PH50
IF YOU ARE LOCATED IN ONE OF THE ABOVE AREAS PLEASE REFER TO THE ESCAPE RANGE WHO CAN DELIVER TO YOUR LOCATION.
BOOKING YOUR DELIVERY DATE
Once your order has been placed, you will be contacted by our manufacturer's delivery team and you will be advised of a specific delivery date. Please contact us if you have not be contact within in 10 Days.
HOW WILL MY GOODS BE DELIVERED?
Please be advised delivery is kerb side delivery only. It is at the discretion of the driver if they are able to drop the garden building to a different location. If you have any special requirements or believe access to your address may be difficult for our delivery driver please contact us as soon as possible. A general rule of thumb is that if a refuge vehicle can gain access then generally our delivery lorry should be able to but if in doubt please get in touch with us.
Typical delivery is 1 – 20 working days but we do aim to deliver a bit quicker. Once you have placed your order you will be contact by our delivery team to confirm your delivery date. If you have not been contacted by our delivery team within 10 working days after your have placed your order please email us or call us and we will chase this for you.
Delivery is between the hours of 7am – 7pm Mon-Sun
If you are going to be out on the day of delivery, it is possible for the item to be left somewhere (for example down the side of a house) but at your own risk. To do this you must leave a signed note detailing your instructions in a clear location for the driver to see. It is important that you sign the instructions as this will be taken by the courier as proof of delivery.
Please note we will always contact you by phone or by email to confirm a delivery date – we will not just turn up unannounced – if you do not have a confirmed delivery date please email us or call us.
We are unable to specify a delivery time during the day of delivery. Our couriers deliver between the hours of 7am – 7pm.
Please note your card is debited at checkout. This is to protect you the customer as we do not store your credit card details. We will contact you if a surcharge is applicable and at that point you can chose to accept the charge or cancel the order and we will make a full refund to your card. For our full terms please refer to our Shipping Terms