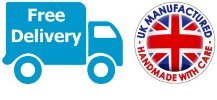 EcoBase

:
Plastic Ecobase 7ft x 4ft (20 Grids)
Move mouse over Image to zoom
RRP : £269.07
Save : £95.48 (35 %)
5 left in Stock
127 Views in the last 24 hours
1 Purchases in the last 24 hours

Google Customer Rating:

4.5 out of 5
Get a great price on our quality EcoBase 7ft x 4ft (20 Grids) *New & Updated*, available online with Free UK Delivery | Buy Online Today
FREE DELIVERY
in 3 working Days*
Estimated Delivery:
Wednesday, 15 Apr 2020

A lightweight and eco-friendly alternative to traditional concrete bases for sheds, cabins and greenhouses.

• Quick and easy to install
• New & Updated interlocking grids - No more Eco Pins!
• Lightweight, strong and durable
• Ventilates your shed base keeping it dry
• Easy to cut to size using a handsaw
• Reusable and recyclable
• Instant soak away for greenhouses
• Major savings on concrete bases
• Made from 100% recycled plastic
• Multiple design options
Installing your EcoBase
Sheds
Prepare a level area. EcoBase can be laid directly onto grass, soil, builders sand or pea gravel.
Lay out your EcoBase on top of the membrane. Cut to size if necessary. Each grid simply interlocks with one another.
Design your EcoBase to be the same size as your shed (No pea gravel required).
Design your EcoBase to be larger than your shed and fill the excess EcoBase with pea gravel to create a French drain which helps to prevent splash back of rain water and soil debris onto your timbers.
Greenhouses
Adding pea gravel to your Greenhouse EcoBase creates an instant soak away. Secure your greenhouse to the EcoBase using plastic ties.
Log Cabins
Filling the EcoBase with pea gravel creates a firm stable base for small log cabins and timber buildings.
 
Product Data:
Made from UV stabilised 100% recycled plastic. Each grid is: 500mm x 500mm x 50mm. Weight: 1.8kg per grid. Crushability: 185 tonnes m2. Each grid holds approximately 16.5kg of 10mm pea gravel.
Recent Google Reviews
Excellent speedy service ordered a shed on a Wednesday was told delivery would be 7 - 10 working days, next morning received text to say shed would be delivered Friday am. Delivery arrived on time.
Having discovered the firm online we went to the showroom and were greeted by a friendly and knowledgeable member of staff. We decided on the Premier Summerhouse and he explained the window options, the ecobase and how to fit it ourselves, the delivery terms (kerbside) and the initial treatment on the timber. We chose to fit the ecobase ourselves and it arrived very quickly with clear instructions. The summerhouse is of reasonable quality given the good price, and was delivered by a very helpful driver who cheerfully carried it into our garage. The installation team was brilliant - very friendly and competent. As nothing is perfect -the only negatives would be that the quality of the catch on the summerhouse doors could be better and earlier notification of possible installation dates would have been helpful