Grow Your Own | Solutions For All Your Gardening Needs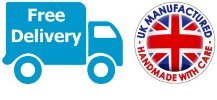 Growing your own vegetables and herbs is fun and we have the tools to help you grow your own vegetables to produce the luscious, tasty crops that you deserve. We offer a number of products to help you maximise the crop of your vegetables growing in your garden. The Growbag Tray is ideal for your tomatoes along with our Timber Coldframe to protect your vegetables during those winter months. The raised Planter is made from heavy duty pressure treated wood giving a raised bed for you to plant your seeds and watch your vegetables grow and flourish.
Container-grown plants can be planted at any time of the year, but they settle in more quickly if planted in the autumn or spring.
Autumn is the ideal time to plant your plants, because the soil is moist, but not so wet that it sticks to your tools and boots. Also the ground is still warm enough to encourage new root growth which helps the plants establish quickly.
The last thing new plants need is to have to compete for moisture, nutrients and growing space with surrounding plants and weeds. So before planting make sure you dig over the area for planting. This means you can get rid of any debris like stones and also improve the soils quality by adding lashings of organic matter such as manure or garden compost.
Autumn is the time to plant bulbs if you want to give your garden a splash of colour next spring. Bulbs are really easy to grow; once you've planted them they need very little attention, and will reward you with colour, and often scent, when the rest of the garden is looking bare. Provided you plant them at the right time of year, at about the right depth, they'll reward you with beautiful flowers year after year
The planting time for bulbs depends on their flowering time. Spring-flowering bulbs should be planted from early autumn, so they have time to produce new roots before the onset of winter. Summer-flowering bulbs are best planted from late spring onwards.
To achieve a natural-looking group of flowers you'll need to plant the bulbs in irregular blocks at variable planting distances.  Scattering the bulbs by hand and planting them exactly where they land achieves this effect.
All bulbs should be planted with the 'nose', the pointed bit where the shoot comes out, at the top and the 'basal plate', the flat bit where the roots are produced, at the bottom.