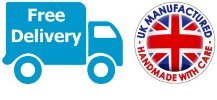 Move mouse over Image to zoom
Google Customer Rating:

3.5 out of 5
Open slatted roof with a curved back panel, deluxe Keswick arbour, great feature in any outdoor area giving you a place where you can relax and enjoy the warm weather.
FREE DELIVERY
in 5 working Days*
Estimated Delivery:
Thursday, 31 Jan 2019

DELUXE KESWICK ARBOUR

Open Slatted Roof
Curved Back Panel
Lattice Side
Pressure Treated
Natural Timber Finish
Height 2.08m
Width 1.32m
Depth 0.8m

FREE MAINLAND UK DELIVERY*
DELUXE KESWICK ARBOUR 
 


Features
DELUXE KESWICK ARBOUR

Open Slatted Roof

Curved Back Panel

Lattice Side

Pressure Treated

Natural Timber Finish

Height 2.08m

Width 1.32m

Depth 0.8m

FREE MAINLAND UK DELIVERY*
FREE STANDARD UK MAINLAND DELIVERY*
LEAD TIMES (subject to availability & seasonal activity)
Central England & Wales                                                                                                 10 Working days
South West                                                                                                                          10 Working days
Scotland                                                                                                                               15 Working days
*Deliveries to most parts of mainland UK are free of charge. Rowlinson do not charge to delivery to Scotland.            
**No Delivery Service is Available to Isle Of Man, Scottish Isles (only mainland port), Isle Of Wight and Channel Islands.
IF YOU ARE LOCATED IN ONE OF THE ABOVE AREAS PLEASE REFER TO THE ESCAPE RANGE WHO CAN DELIVER TO YOUR LOCATION.
BOOKING YOUR DELIVERY DATE
Once your order has been placed, you will be contacted by our manufacturer's delivery team and you will be advised of a specific delivery date. You will be able to add additional delivery information at this point. Your garden building is manufactured to order. Please contact us if you have not be contact within in 10 Days.
HOW WILL MY GOODS BE DELIVERED?
Please be advised delivery is kerb side delivery only. It is at the discretion of the driver if they are able to drop the garden building to a different location. If you have any special requirements or believe access to your address may be difficult for our delivery driver please contact us as soon as possible. A general rule of thumb is that if a refuge vehicle can gain access then generally our delivery lorry should be able to but if in doubt please get in touch with us.
Typical delivery is 1 – 20 working days but we do aim to deliver a bit quicker. Once you have placed your order you will be contact by our delivery team to confirm your delivery date. If you have not been contacted by our delivery team within 10 working days after your have placed your order please email us or call us and we will chase this for you.
Delivery is between the hours of 7am – 7pm Mon-Sun. It is possible to request a call an hour prior to delivery but this is subject to the driver having a mobile and cannot be a guaranteed service. Please note this is not possible for Metal sheds where the product is shipped with a courier.
If you are going to be out on the day of delivery, it is possible for the item to be left somewhere (for example down the side of a house) but at your own risk. To do this you must leave a signed note detailing your instructions in a clear location for the driver to see. It is important that you sign the instructions as this will be taken by the courier as proof of delivery.
Please note we will always contact you by phone or by email to confirm a delivery date – we will not just turn up unannounced – if you do not have a confirmed delivery date please email us or call us.
We are unable to specify a delivery time during the day of delivery. Our couriers deliver between the hours of 7am – 7pm. Routes are planned the night before delivery so on most products we will be able to give you a drop number on the day of delivery.
Please note your card is debited at checkout. This is to protect you the customer as we do not store your credit card details. We will contact you if a surcharge is applicable and at that point you can chose to accept the charge or cancel the order and we will make a full refund to your card. For our full terms please refer to our Shipping Terms