10 x 10 | Express Delivery - 48HR - Sat & Sun - Pick-A-Day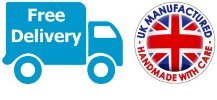 10 x 10 Express Delivery - 48 hour - Saturday and Sunday - Pick-A-Day 
We offer 48 hour, Saturday and Pick-A-Day delivery for a small additional charge (please check each product page for costing) to a number of postcodes (please see below). On each page there is a postcode checker – please enter your postcode to check available delivery slots. For Saturday and Sunday deliveries please place your order prior to 11am each Thursday.
*Please check below if your postcode is available for one of the express services available. If your postcode is listed please add the 48HR / PICK-A-DAY or Saturday, Sunday service to your basket when selecting the product above. When selecting a "Pick A Day "please specify a date in the notes on the checkout page – the day selection must be 48HR from the day or purchase.
All orders must be placed before 11am to qualify (for Saturday deliveries order need to be placed before 11am Thursday prior to the Saturday) All orders placed afterwards will be treated as placed the next working day.
This express service is not available for Installations which are on a standard 10 day service.
PLEASE NOTE THIS CANNOT BE A GUARANTED SERVICE. WE AIM TO DELIVER WITHIN THE RECOMMENDED DELIVERY TIME FOR EACH PRODUCT. HOWEVER SOMETIMES DUE TO UNFORSEEN CIRCUMSTANCES BEYOND OUR CONTROL, SUCH AS COURIER MECHANICAL FAILURES, TRAFFIC OR WEATHER, THIS WILL NOT ALWAYS BE POSSIBLE. IF A PROBLEM ARISES WE WILL ALWAYS CONTACT YOU AS QUICKLY AS WE CAN SO YOU CAN MAKE ALTERNATIVE ARRANGEMENTS.  AS THE SELLER WE WILL NOT BE LIABLE TO THE BUYER FOR FAILURE TO DELIVER ON ANY PARTICULAR DATE OR DATES. TIME FOR DELIVERY IS NOT OF THE ESSENCE AND SHALL NOT BE MADE SO BY THE SERVICE OR NOTICE.
**Available Express Delivery Post Codes:
AL; B; BD; BL; BR; CB; CH; CV; DE; DN; DY; E; EN; HA; HD; HX; IG; KT; L; LE; LS; LU; M; MK; N; NG; NN; NW; OL; PE; RM; S; SE; SG; SK; SW; TW; UB; W; WA; WD; WF; WN; WS; WV.