Lean-To Greenhouses | Free UK Delivery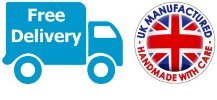 Lean- To Greenhouses - Wide Extensive range of Greenhouses to buy at truly cheap prices!

Our greenhouse range offers you a choice of wooden greenhouses or aluminium framed polycarbonate greenhouses and styles including apex greenhouses, lean-to greenhouses, and free-standing PVC cover greenhouses.
For all gardeners, from the beginner to the expert, a greenhouse is an important garden building to have when growing your own plants, fruit and vegetables throughout the year.
Our range of greenhouses are built with polycarbonate panels, as opposed to glass, providing extra strength and durability, and reducing your maintenance costs whilst you own the greenhouse..
Our greenhouses are offered in a wide range of sizes, meaning that you can find the right one for your garden, whether you are growing the odd plant or flower, or if you are a keen gardener who is growing their own fruit.
The popular Premier Potting Shed is ideal for your garden offering the perfect potting shed to grow your plants and comes with a 10 year anti-rot guarantee, giving you peace of mind that your greenhouse will last for many years.
Wooden greenhouses are sturdy and reliable constructions that allow you to grow your own plants and produce all year round.
iLikeSheds wooden greenhouse range consists of pressure treated greenhouses, wooden lean-to greenhouses, mini greenhouses, combination greenhouses and potting sheds.
Wooden Pressure Treated Greenhouses
A pressure treated greenhouse has a fantastic look with a reliable and sturdy construction. The pressure treatment reduces the chances of damage occurring to the greenhouse and allows them to withstand general UK weather conditions. It also boasts two opening roof vents so you can create the perfect environment for the plants within your greenhouse.
Wooden Lean-to Greenhouses
A lean-to greenhouse is the ideal space saver that allows you to garden even if you are short of space. They can be perfectly positioned against a wall or fence and offer a strong wooden construction for added reliability and durability.
Mini Wooden Greenhouses
A mini greenhouse is perfect for the smaller household and can even be placed on a balcony. It is a fantastic alternative if you do not have a garden large enough to accommodate a regular greenhouse that lets you grow fruit and vegetables all year round.
Wooden Potting Sheds
Potting sheds are a storage area and potting area in one. Not only can you store all your garden accessories neatly and efficiently but you can also create the perfect vegetables, herbs and plants via the potting area. With styrene glazed windows and opening vents the potting sheds allow you to create the perfect growing environment.
Wooden Combi Greenhouses
If you are looking for a storage area and planting area that are separate but cannot afford a shed and a greenhouse then the combination greenhouse is an ideal solution. With an adjoining shed and greenhouse you can store all your garden items safely and securely and still have an area to grow your own plants, herbs and vegetables with neither getting in the way.
If a wooden greenhouse is not suitable for you then you may like to view our range of polycarbonate greenhouses that offer a more affordable option. Or if you are specifically looking for a lean-to greenhouse then we have a page dedicated to these greenhouses.
We recognise that not every garden has the free space to house a full-sized greenhouse, which is why we offer you a choice of lean-to-greenhouses.
From our polycarbonate greenhouses range comes our 4' x 6' Lean-to Greenhouse which combines an aluminium frame with 4mm thick polycarbonate glazing to provide you with a solid, secure and well insulated lean-to- greenhouse. Polycarbonate glazing is used in all of our greenhouses as it is a safer alternative to traditional glass which can be dangerous if shattered.
In addition to the aluminium lean-to- greenhouse we also supply our 8' x 4' Wooden Greenhouse Lean-to Greenhouse. This wooden lean-to is part of our high quality Premier Range and is constructed using tongue and groove timber panels and polycarbonate glazing. You can moderate the temperature inside this wooden lean-to greenhouse with the opening roof window, whilst the door has a built-in lock to keep your property secure.
We also supply a range of Cold Frames, Growers range and Tunnels ideal for your garden.