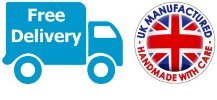 Move mouse over Image to zoom
Google Customer Rating:

3.5 out of 5
Get a great price on our quality 12 X 13 APEX LOG CABIN (3.59M X 3.89M) - 34MM TONGUE AND GROOVE LOGS, available online with Free UK Delivery | Buy Online Today
FREE DELIVERY
in 14 working Days*
Estimated Delivery:
Monday, 15 Apr 2019

Product Accessories
ArmourShield Shingles
Armourshield Shingles (+£450.00) Selected:

Charcoal (+£450.00)
Installation (Not available on express delivery options)
3.6m x 3.9m Premier Home Office Apex Log Cabin

34mm Tongue & Groove Walls
19mm Tongue & Groove Floor & Roof
Lockable Doors
Interlocking logs
Drip Bars provide above windows and doors
Porch Area with shelter
Built to last with Strength & Stability
The interior of the cabin is finished with clean skirting boards
Handcrafted Joinery 
Large windows provide plenty of natural light

FREE UK DELIVERY*
**Come and see this product in our Indoor Show Site**
3.59m x 3.89m PREMIER HOME OFFICE APEX LOG CABIN + FREE FLOOR & FELT - 34mm TONGUE AND GROOVE LOGS (Single Glazing)
Optional Upgrades Available (please select from Accessories)
- Double Glazing (Toughened)
- Installation
- Shingle Roofing
Construction
This cabin is manufactured from 34mm thick high quality wood with double tongue & groove joints and wind tight chalet-connections to the corners. 

Interlocking logs come as standard for a strong cabin

On all windows and doors there is a drip bar which is made to help divert any rain away from the log cabin

The floor and roof are both made from thick tongue and groove which will make the durable and the interior also look more attractive

Full length joinery glazed lockable double doors for a secure entrance

Double doors/porch and windows can also be reversed to suit you

Inside the log cabin in finished off with neat skirting boards

Full glazed double door and windows provide plenty of natural light 

Handcrafted joinery

Draft seal system on all windows and doors

Easy to dismantle and rebuild if you wish to move 
Key Features
Draft seal system

Full length lockable glazed double doors

Strong, durable log cabin



Additional Information
The cabin is untreated, giving you the opportunity to decorate it to your own preference as well as protecting the building. Buildings which are not treated do naturally grey with age within around 1 year; we recommend that you treat the log cabin during construction with a high quality preservative regularly according to the preservative manufacturer's instructions.
The cabin will be delivered with disposable packaging which aims to protect it during transportation. Although the cabin is an outside product, the wood should be treated or kept dry during the installation process. We would recommend that any exposed timber is covered immediately after delivery to avoid any stain issues.
This cabin includes a FREE floor.
The kit will also include pressure treated bearers for added strength and 

your building will come complete with full instructions and a assembly kit.

This log cabin should be erected on a firm level base, preferably, solid sheet concrete or concrete slabs.
Base

We would highly recommend your building is erected on a firm level base, such as a solid, level concreted area or concrete slabs. The pressure treated bearers which are included, add maximum strength to the base. The floor is included.


Installation Service

Delivery for your cabin would usually take place the day before the installation team are due to erect the building. In this case, it is likely that you may be required to store the log cabin for 24/48 hours before your scheduled installation date. We have an installation team with over 30 years of experience in constructing log cabins. It is vital that the base you wish for the cabin to be erected on is prepared before the team arrive to install your log cabin. Installation usually takes 1-2 days with the team arriving at 7am to get an early start! (Refreshments always appreciated).


Please note for this cabin the installation cost is for the construction of the log cabin and for the felt to be fitted to the cabin. IT DOES NOT INCLUDE the fitting of shingles which will be an additional charge if you wish the team to fit these. Please call for a quote (typically this cost will be in the region of £300 due to the length of time taken to lay the shingles)
 
Door (Height x Width):

2.0m x 1.6m

Eaves Height (wall height):

2.1m

Floor & Roof :

19mm Tongue & Groove

Glazing :

Single Glazing (optional upgrade to toughend double glazing)

Size:

3.6m x 3.9m (12ft x 13ft)