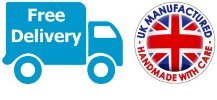 Oakham Premier Log Cabins (S)

:
INSTALLED 3.0m x 4.2m Premier Reverse Apex Home Office Log Cabin (Single Glazing) - Free Floor & Felt (34mm) - INSTALLATION INCLUDED
Move mouse over Image to zoom
RRP : £15,351.21
Save : £6,822.76 (44%)
8 left in Stock
252 Views in the last 24 hours
1 Purchases in the last 24 hours

Google Customer Rating:

4.5 out of 5
FREE DELIVERY
in 35 working Days*
Estimated Delivery:
Thursday, 25 Jan 2024

Get a great price on our quality 12 X 13 APEX LOG CABIN (3.59M X 3.89M) - 34MM TONGUE AND GROOVE LOGS, available online with Free UK Delivery | Buy Online Today
3.0m x 4.2m Premier Home Office Apex Log Cabin

Front Overhang On Roof 0.6m
34mm Tongue & Groove Walls
19mm Tongue & Groove Floor & Roof
Lockable Doors
Interlocking logs
Drip Bars provide above windows and doors

Built to last with Strength & Stability
The interior of the cabin is finished with clean skirting boards
Handcrafted Joinery 
Large windows provide plenty of natural light

FREE UK DELIVERY*
INSTALLED 2.99m x 4.19m PREMIER HOME OFFICE APEX LOG CABIN + FREE FLOOR & FELT - 34mm TONGUE AND GROOVE LOGS (Single Glazing) - INSTALLATION INCLUDED
Optional Upgrades Available (please select from Accessories)
- Double Glazing (Toughened)
- Shingle Roofing
Construction
This cabin is manufactured from 34mm thick high quality wood with double tongue & groove joints and wind tight chalet-connections to the corners. 

Interlocking logs come as standard for a strong cabin

On all windows and doors there is a drip bar which is made to help divert any rain away from the log cabin

The floor and roof are both made from thick tongue and groove which will make the durable and the interior also look more attractive

Full length joinery glazed lockable double doors for a secure entrance

Double Doors and Windows can also be reversed to suit you

Inside the log cabin in finished off with neat skirting boards

Full glazed double door and windows provide plenty of natural light 

Handcrafted joinery

Draft seal system on all windows and doors

Easy to dismantle and rebuild if you wish to move 
Key Features
Draft seal system

Full length lockable glazed double doors

Strong, durable log cabin



Additional Information
The cabin is untreated, giving you the opportunity to decorate it to your own preference as well as protecting the building. Buildings which are not treated do naturally grey with age within around 1 year; we recommend that you treat the log cabin during construction with a high quality preservative regularly according to the preservative manufacturer's instructions.
The cabin will be delivered with disposable packaging which aims to protect it during transportation. Although the cabin is an outside product, the wood should be treated or kept dry during the installation process. We would recommend that any exposed timber is covered immediately after delivery to avoid any stain issues.
This cabin includes a FREE floor.
The kit will also include pressure treated bearers for added strength and 

your building will come complete with full instructions and a assembly kit.

This log cabin should be erected on a firm level base, preferably, solid sheet concrete or concrete slabs.
Base

We would highly recommend your building is erected on a firm level base, such as a solid, level concreted area or concrete slabs. The pressure treated bearers which are included, add maximum strength to the base. The floor is included.


Installation Service

Delivery for your cabin would usually take place the day before the installation team are due to erect the building. In this case, it is likely that you may be required to store the log cabin for 24/48 hours before your scheduled installation date. We have an installation team with over 30 years of experience in constructing log cabins. It is vital that the base you wish for the cabin to be erected on is prepared before the team arrive to install your log cabin. Installation usually takes 1-2 days with the team arriving at 7am to get an early start! (Refreshments always appreciated).


Please note for this cabin the installation cost is for the construction of the log cabin and for the felt to be fitted to the cabin. IT DOES NOT INCLUDE the fitting of shingles which will be an additional charge if you wish the team to fit these. Please call for a quote (typically this cost will be in the region of £300 due to the length of time taken to lay the shingles)
 
We offer an array of additional bespoke extras and upgrades to suit your garden building, ranging from timber upgrades to ground works and electrics. 
Optional Extras:
Bespoke Sizes

Concrete Bases

Paving Slab Bases

Timber Painting & Treatment

Building Installation service
Optional Upgrades:
Framing Upgrades

Floor & Roof Upgrades

Fully Insulated Garden Buildings (Double Skin 64mm 12mm + 12mm T&G)  – 40mm Insulated EcoTherm)

Double Glazing Safety Toughened Windows (4mm – 6mm – 4mm)

EPDM Roof
Door (Height x Width):

2.0m x 1.6m

Eaves Height (wall height):

2.1m

Floor & Roof :

19mm Tongue & Groove

Glazing :

Single Glazing (optional upgrade to toughend double glazing)

Size:

3.0m x 4.2m (10ft x 14ft)
STANDARD UK FREE DELIVERY*
Delivery is Free on most orders over £50 to UK MAINLAND*
All orders under £50 will attract a charge of £20.00
*Delivery to the following locations attract the following charges:
Zone 1 - £132 Charge
BH, CH, DH, DL, DT, HR, LA, NP, SR, TA, TS                         
Zone 2 - £168 Charge
CA, CF, LD, NE, SY                                                                                                      
Zone 3 - £264 Charge
DG, EH, EX, KA, LL, ML, PL, P030-41, SA1-18, TD, TQ                                                                                              
Zone 4 - £360 Charge
AB, DD, FK, G, IV1-3, KY, PA 1-19 (rest of PA no service), PH1-18 (Rest of PH no Service), SA18-73, TR                  
*I am afraid we are unable to provide a Delivery Service to*
BT (Northern Island), GY, KW, HS, IM, IV14+, JE, PA20-78, PH19-44 - Any Channel Island and Any Scottish Isle**
Northern Ireland, Eire, Jersey & Guernsey: I am afraid we are unable to deliver to these areas. BT (Northern Island), GY, HS, IM, IV14+, JE, PA20-78, PH19-44 - Any Channel Island and Any Scottish Isle
HOW WILL MY GOODS BE DELIVERED?
Please be advised delivery is kerb side delivery only. It is at the discretion of the driver if they are able to drop the garden building to a different location. If you have any special requirements or believe access to your address may be difficult for our delivery driver please contact us as soon as possible. A general rule of thumb is that if a refuge vehicle can gain access then generally our delivery lorry should be able to but if in doubt please get in touch with us.
Typical delivery is 35 working days but we do aim to deliver a bit quicker. Once you have placed your order you will be contact by our delivery team to confirm your delivery date. If you have not been contacted by our delivery team within 10 working days after you have placed your order please email us or call us and we will chase this for you.
Delivery is between the hours of 7am – 7pm Mon-Sun. It is possible to request a call an hour prior to delivery but this is subject to the driver having a mobile and cannot be a guaranteed service. Please note this is not possible for Metal sheds where the product is shipped with a courier.
If you are going to be out on the day of delivery, it is possible for the item to be left somewhere (for example down the side of a house) but at your own risk. To do this you must leave a signed note detailing your instructions in a clear location for the driver to see. It is important that you sign the instructions as this will be taken by the courier as proof of delivery.
Please note for sheds, summerhouses, playhouses, fencing and log cabins we will always contact you by phone or by email to confirm a delivery date – we will not just turn up unannounced – if you do not have a confirmed delivery date please email us or call us.
We are unable to specify a delivery time during the day of delivery. Our couriers and deliver team - deliver between the hours of 7am – 7pm. Routes are planned the night before delivery so on most products we will be able to give you a drop number on the day of delivery.
Please note your card is debited at checkout. This is to protect you the customer as we do not store your credit card details. We will contact you if a surcharge is applicable and at that point you can chose to accept the charge or cancel the order and we will make a full refund to your card. For our full terms please refer to our Shipping Terms
GENERAL DELIVERY T&C's
We are here to help and aim to deliver within the recommended delivery time for each product. However sometimes this will not always be possible and any delivery or dispatch date given is only approximate and as the seller will not be liable to the Buyer for failure to deliver on any particular date or dates. Time for delivery is not of the essence and shall not be made so by the service or any notice.
It is your responsibility to check that all the parts are present and correct, so that in the unlikely event that parts may be missing, incorrect, or damaged, you can ensure we have reasonable time to supply replacements (We aim to typically replace parts within seven days assuming replacement parts are in stock, however if we have to manufacture parts this time frame may be longer). Should you use a third party to carry out the installation please ensure that you give them sufficient time to familiarise themselves with the material and instructions supplied, that all the parts are present and that you have actually received the goods before committing to an installation date.
Warranty and Timber Treatment
Anti-Rot Warranty
Our range of dip treated garden buildings all come with a 10-year anti rot warranty, our range of pressure treated garden buildings all come with a 10-year anti rot warranty. This warranty covers fungal and rot decay of the garden buildings cladding. Log Cabins arrive completely untreated and must be covered until assembled and treated as soon as assembled. This warranty does not cover against splitting, warping or any other movement of the timber building over time.
In order to activate this anti rot warranty you must treat your garden building upon assembly with a high quality timber treatment and preserver, this must also be done annually to hold this warranty and to get the most out of your garden building. This treatment is really important to not only protect the timber but to also ensure it is water tight against water ingress.
Pressure treated products are protected from mould and rot. You must treat your shed once a year with a water base treatment to protect your shed from the British Weather and to make it watertight.
Please note - All of our products must be installed on a level solid base, either concrete, paving slabs, a wooden frame timber base or a plastic Eco base. If your base in not suitable any warranties are voided.
1 Year Manufacturer's Warranty
All of our products include a 1-year manufacturer warranty, this begins when you accept delivery of the garden building. This covers again any faults or defects in the material or workmanship for a period of 12 months. Please note your garden building must also be treated to activate this.
Base Requirements
All of our products must be installed on a level solid base, either concrete, paving slabs, a wooden frame timber base or a plastic Eco base. If your base is not suitable any warranties are voided. If your base is not completely level your garden building will not sit square when constructed, this will twist and warp with the timbers natural movement. The first sign of this issues is usually with the window and doors dropping and not opening, and can even lead to gaps in the roof join and cladding.
A level and solid base is crucial for the longevity and structure of your garden building. Please note If your base in not suitable all warranties are voided.
Please note – Product specifications are to be checked carefully for each product, we round the sizes in the title for ease of browsing.
Really pleased with new garden shed arrived as described, no issues with delivery, putting together and no damage. Very happy with purchase looks great. Thanks guys
Brilliant website with very informative information. very easy to understand as regards all the items that were for sale. The ordering process was also very easy to follow and do. picking your delivery date again is very easy to understand and do. All in all, a very easy and pleasant experience well done to iLikeSheds.
Really impressed arrived before due date, really sturdy and easy to assemble
Great customer service, answered all the questions I had. Exceptional delivery service, delivery driver went out of his way to put my shed where I wanted it. Everything okay