6 x 4 | Wooden Garden Sheds | Free UK Delivery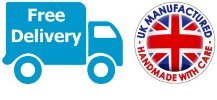 Cheapest 6x4 Sheds Online - Incredible Range of 6' x 4' Sheds
Feel free to look through our magnificent range of 6x4 sheds at the cheapest possible prices online. We pride ourselves on delivering nothing but quality and our 6x4 sheds really do scream quality, yet the prices are unbeatable! For 6x4 sheds, see iLikeSheds.com
Our best selling 6ft x 4ft Escape Overlap Apex Shed is an ideal garden storage solution for your garden and comes with Free Delivery* and we offer an Express Delivery Service – 48HR / SAT / PICK-A-DAY to a number of postcodes (please check each product page for more details).
All our sheds are provided factory dipped which will last you 4-5 weeks before you need to treat your shed. We do though recommend you treat your shed as soon as you have built it. We sell treatment and this can be selected from the accessories on the shed product page. Once you have chosen your shed we offer a number of additional options such as Treatment, Shelving, Solar Lights and Padlocks to enhance your shed.
On a number of sheds we offer an installation service. Please check each page for further information. Delivery time for a shed with the installation service will typically be longer than the standard delivery times quoted, dependant upon the availability of an installation team.